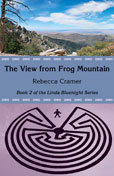 Linda Bluenight, fourth grade teacher and detective extraordinaire, journeys to the top of 9000 foot Mount Lemmon, Arizona, during her summer vacation. Frog Mountain, as the indigenous Tohono O'odham people have always called it, towers over the city of Tucson, and her sojourn there is meant to help an old friend open a bed and breakfast inn in the tiny vacation village of Summerhaven at the mountain's summit.
No sooner does she arrive than do the beloved pets of visitors and villagers alike begin to die violently in the clutches of a vicious predator. When the feline companion of her schoolmate and chum, Leslie Lonborg, becomes a victim, Linda resolves to put an end to the killings, but as she learns more about the tiny enclave and its residents, she discovers that there is more than one kind of stalker in the forest.
Artifacts made by ancient Native Americans are showing up in the hands of Summerhaven residents who claim to know nothing about their origins.
A gigolo-come-tourist-guide is engaged in another brand of predation, and his escapades reveal as much about the personal biographies of his victims, the women of this small community, as they do his own bronze physique.
When the violence inevitably reaches into the human realm of the animal kingdom, Linda finds not only herself but those she loves best in mortal danger. Son Matty, his Tohono O'odham sweetheart, and Linda's new compadre, Sgt. Jake Zepeda, all find themselves embroiled in a struggle for understanding and survival. The View from Frog Mountain, second in the Bluenight Mystery Series, is an invitation to the surprising and scenic sky island of the Sonoran Desert as well as an exploration into the resonant valley of the human heart.