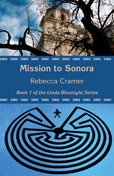 For nearly a decade, Linda Bluenight has lived and worked in southern Arizona with the Tohono O'odham Indian Nation. At Mission San Xavier del Bac on the Native American reservation southwest of Tucson, she and her teenaged son have built a peaceful and productive life. While Matty attends high school next door, Linda teaches fourth-graders in the mission's small elementary school, a world away from the crime scenes which dominated her former career as a forensic anthropologist for the Kansas City Police Department.
On a bright morning in November, her pleasant routine shatters around her when Matty finds a corpse in a canyon as he hikes into the Santa Catalina Mountains. Linda finds herself called to the Tucson police station to fetch her son after he reports his grim discovery, and reluctantly, she agrees to examine the body. The dead man, a millionaire land developer who, with his brother-in-law, operated one of Arizona's
largest real estate companies, has been shot once through the heart.
As Linda is sucked into the murder investigation, she learns that Eastman Inc. is at the center of a dramatic and dangerous controversy over its role in what many see as the destruction of the Sonoran desert. Environmental groups and Tucson's university community are outraged over the continued ecological damage done by the company's construction projects, including a proposal for a massive new resort complex. In addition, a young man from San Xavier village is accused of the murder. Before events can sort themselves out, he is found hanging in his jail cell. As a friend of the family, Linda is unable to believe that Ramon Morena was guilty, and her inquiries into the case take on a broader scope. Soon, she and Matty are targeted for harassment, threat, and finally, outright terror by an invisible and ruthless assailant. Still, she continues her pursuit of the truth with the help of a lieutenant in the city's homicide squad. A relationship begins to blossom between them, despite Linda's practiced aloofness and the tensions associated with her increasing involvement in Tucson's most sensational murder case.
The plot unfolds to reveal a picture of family intrigue, political corruption, and explosive violence painted against the backdrop of a fast growing Southwestern city. Yet such ugliness exists apart from the unique beauty of an arid landscape, the strength and integrity of Sonora's oldest cultures, and the affection and dedication of parent and child.
Mission to Sonora is an anthropological murder mystery with an environmental theme, a cross-cultural setting, a hint of romance, and a sense of humor. Its surprising and climactic ending will keep the reader glued to the page, and it will introduce the Bluenight Mystery Series in a way reminiscent of Tony Hillerman's Joe Leaphorn and Nevada Barr's Anna Pigeon.